Step Hero is play to earn role playing fantasy game built in Polygon networks blockchain. You choose a hero role and start their journey. In Step Hero you can earn real money while playing the game or earn different reward.
The items are collectible and can be used in NFT marketplace. If you are looking fun and earn money also you can try this game.
You can watch the Step Hero Official game trailer video below.
Step Hero Gameplay
You will choose your hero to play the game and join battles. With the items that you collected in the game you can boost your abilities and skills.
To upgrade your hero you can either use the items that you found or buy new items. While playing the game you will be gaining STEP coins and this STEP coins can be converted to real money.
The world map of Step Hero has different regions and areas that you can discover while you make your progress in the game with your hero.
Each region has different difficulties that you will face.
The regions has their submaps that correspond to your hero's levels and completion.
In the game there are boss creatures for each level and you will face with this level bosses after you complete 3 levels in the game.
If you defeat the boss level you will be able to unlock differents heroes, weapons, gears or powerful items which you can use to enchance your hero.
Step Hero has its own offical token called HERO token.
You can use HERO tokens as a payment in NFT marketplace.
You can also farm or earn the reward points by completing daily tasks and quests in the game.
With your reward points you can also get rare heroes which is more powerful heroes if you compare with common heroes in the game.
How to earn prizes and rewards in Step Hero?
Beside the discovering map in the game you can also join PVP battles with your hero and when you win the battle you will earn different prizes, items or rewards.
The items that you earn can be sold in the game and you can buy healing potions to use in battles or you can craft your own weapons and sell in NFT marketplace for real money.
You can also trade your hero in NFT marketplace.
If you have rare or more unique hero you may sell it in high prices as well.
How to Play Step Hero?
To start playing Step Hero you can follow below 3 easy steps:
Step #1: Purchase a Hero from in game store or NFT marketplace.
Step #2: Select a team to join with your heroes.
Step #3: Start exploring the world map. Defeat the boss in levels and join the PVP battles.
By completing the daily task and quests in game or winning the PVP battles you can make your hero more strong to gain advantages.
Also, you can upgrade and boost your heroes strength and rank to grab more valuable items.
After each battle, depends on your progress your hero name will be shown in hall of fame.
As soon as you finish your battle map your hero will receive a reward depending of the game level.
The more harder level you will get awesome rewards.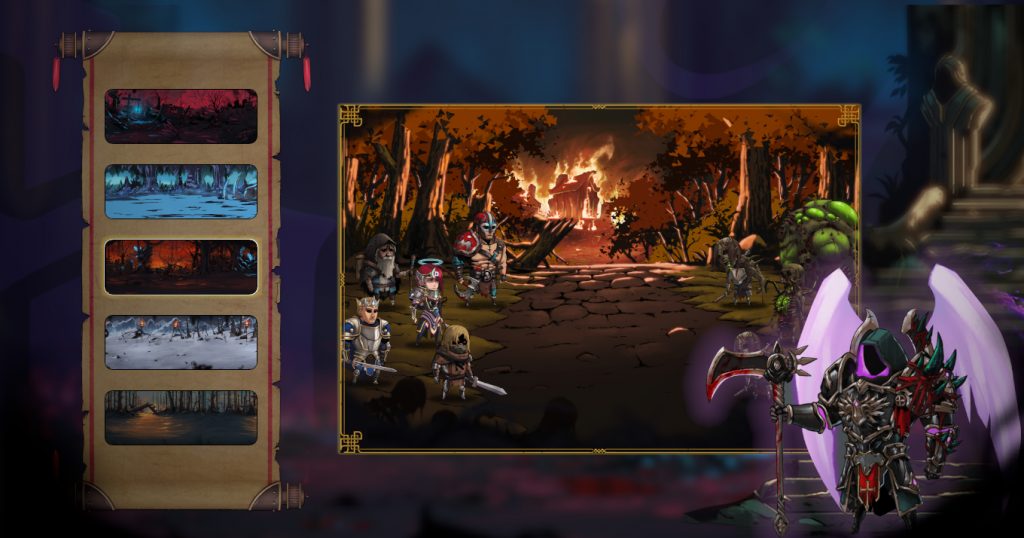 In the battles you will need to minimum one hero to play but I strongly recommend to keep it 4 or 5 heroes to make everything is easy and sure to win the battle.
In the battles you can choose if you want to make the combat manually or full auto.
In manual combat mode you will need to prepare your gear, items and weapons by your like.
In full combat mode everything will be automatically choosen.
If you are in hurry and do not want to wait you can play the battle in auto compat mode but in my opinion the best to play the battle in manul combat mode so you can control everything while combatting.
After you choose your team you can use "find a match" button to find your opponents to fight.
Hero prices in Step Hero
Hero prices in Step Hero is all depends on the rarity of the hero, type of the character and also the gear, weapons and items that hero has.
The most rarest hero with boosted items are the most expensive ones.
I have noticed that hero prices range are from 400 USD to 3 millions USD but I have no idea if someone is going to spend a 3 millions USD on a game character.
But this is personal thinking so decision will be on yours.
You can search game marketplace to find your hero if you like to buy one.
In below you can see some characher prices for your information only.
Conclusion
Step Hero has great graphics and easy to play NFT game. It allows you to create your own weapons which can be sold on NFT marketplaces. With its well designed PVP battle and ranking system you can make your hero more valuable.
If you are interested in playing other NFT games like Uplands, Gods Unchained, Splinterlands, or Dark Country, make sure you have gone through our ultimate guides on them.
NFT items which is so popular these days offers so many new ideas and potential money earning if you catch the correct time.
It is also super easy to sell anything on NFT marketplaces.
You can sell your game character or crafted item or reward items.
Have you played Step Hero already? Feel free to share your experience as well as your own NFT gaming tips in the comments!